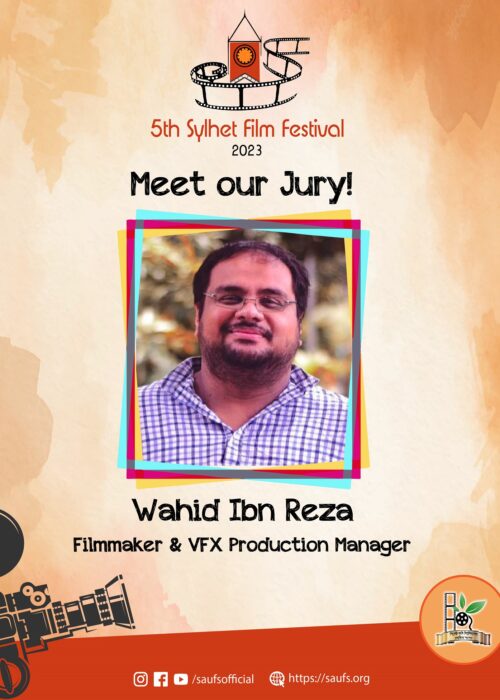 Wahid Ibn Reza is a Bangladeshi Writer, Film Director, VFX/Animation Production. He has a BSc in Mechanical Engineering from BUET and a BFA in Film Production from UBC.
Before moving to North America, Wahid was a familiar face in Bangladesh entertainment industry. He acted as lead in various television films and lead for couple of television comedy series. He also worked as a model, anchor and comedian in front of screen. He had the pleasure of working with country legend Humayun Ahmed and youth icon Mostofa Sarwar Farooki and multinational houses such as BBC World Service Trust.
His notable works are: Night at the Museum(2014); 20th Century Fox, Exodus: Gods and Kings(2014); Hollywood, Furious 7(2015);Universal Pictures, Fifty Shades of Grey(2015);Universal Pictures, Doctor Strange(2016); Marvel Studios, Hollywood, Captain America: Civil War(2016);Marvel Studios, Hollywood, Batman vs Superman: Dawn of Justice(2016);D.C. Entertainment, Hollywood, Guardians of the Galaxy Vol. 2(2018);Marvel Studios, Hollywood as VFX Coordinator, Hotel Transylvania 3: Summer Vacation(2018); Sony Pictures, Hollywood as Associate Production Manager, Extraction-Netflix(2020) as Consultant.
Behind the camera, he worked as head writer for advertising company Grey World Wide. He also wrote several television films and series for local television network in Bangladesh. He is now developing several feature films, including first ever featured length 2D animated film in Bangladesh.